Being one of the most must-go destinations in Vietnam according to different voters across the globe, Sapa is nowadays much easier to travel to with 14 different private train carriages on the night run to Lao Cai such as Victoria Express, Fansipan Express, Sapaly Express, Orient Express, Livitran Express, King Express and to name a few.
These private carriages are modernly equipped with air-conditioner, sleep berths, wooden furniture and cozy light system and competitive in price promising to bring tourists nice experience of train travel in Vietnam.


IMPORTANT NOTE FOR SAPA TRAINS!
Dear Passengers,
Recently we have received many questions in regards to your tickets from Hanoi to Sapa. The main concern is why will you be stopped at Lao Cai Train Station in stead of Sapa Train Station while the booking mentioned that ticket is for Hanoi to Sapa?
Please be advised that Sapa is a small town located at 1500 meters (4921 feet) above sea level in Vietnam's remote northwest mountains, in Lao Cai province. So, no train station or airport could be built or operated there. That's why you will be stopped at Lao Cai Train Station - the only gateway to Sapa. The reason why we posted on the website that the route is from Hanoi to Sapa because most travellers do not know about Lao Cai but only Sapa. It'll cause you problem in searching and purchasing the ticket.
Back to the concern how to get to Sapa from Lao Cai Train Station, kindly buy the bus ticket, which is simple and easy since there're lot of buses waiting in front of the train station. It's about 38km far from Lao Cai to Sapa and takes you about 45 minutes to 1 hours to get there. Bus ticket price is ranging at 60.000 VND to 70.000 VND/ pax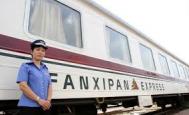 Fanxipan Express Train
One way tickets (Soft Berth) are available
Single tickets (VIP Berth) are NOT available
Ticket is not inclusive of transfer service to/from train station
Ticket prices include snack and drinks but exclude meals
There is no WC in cabin, but there are two in each carriage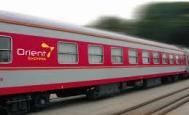 Orient Express Train
One way tickets (Soft Berth) are available
Single tickets (VIP Berth) are NOT available
Ticket is not inclusive of transfer service to/from train station
Ticket prices include snack and drinks but exclude meals
There is no WC in cabin, but there are two in each carriage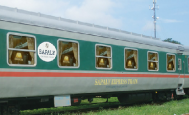 Sapaly Express Train
One way tickets (Soft Berth) are available
Single tickets (VIP Berth) are NOT available
Ticket is not inclusive of transfer service to/from train station
Ticket prices include snack and drinks but exclude meals
There is no WC in cabin, but there are two in each carriage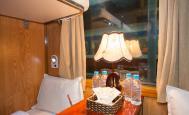 VNTrans Train
One way tickets (Soft Berth) are available
Ticket is not inclusive of transfer service to/from train station
Ticket prices include snack and drinks but exclude meals
There is no WC in cabin, but there are two in each carriage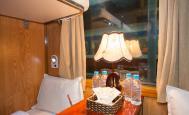 Livitrans Train
One way tickets (Soft Berth) are available
Ticket is not inclusive of transfer service to/from train station
Ticket prices include snack and drinks but exclude meals
There is no WC in cabin, but there are two in each carriage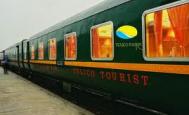 Tulico Train
One way tickets (Soft Berth) are available
Ticket is not inclusive of transfer service to/from train station
Ticket prices include snack and drinks but exclude meals
There is no WC in cabin, but there are two in each carriage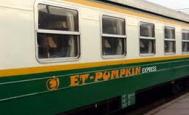 Pumpkin Train
One way tickets (Soft Berth) are available
Ticket is not inclusive of transfer service to/from train station
Ticket prices include snack and drinks but exclude meals
There is no WC in cabin, but there are two in each carriage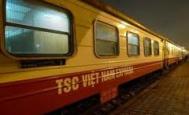 TSC Train
One way tickets (Soft Berth) are available
Ticket is not inclusive of transfer service to/from train station
Ticket prices include snack and drinks but exclude meals
There is no WC in cabin, but there are two in each carriage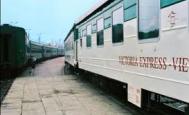 Victoria Express Train
Victoria Sapa Hotel & Sapa reservation code required
One way tickets (Soft Berth) are available
Ticket is not inclusive of transfer service to/from train station
Ticket prices include snack and drinks but exclude meals
There is no WC in cabin, but there are two in each carriage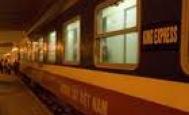 King Express Train
Victoria Sapa Hotel & Sapa reservation code required
One way tickets (Soft Berth) are available
Ticket is not inclusive of transfer service to/from train station
Ticket prices include snack and drinks but exclude meals
There is no WC in cabin, but there are two in each carriage